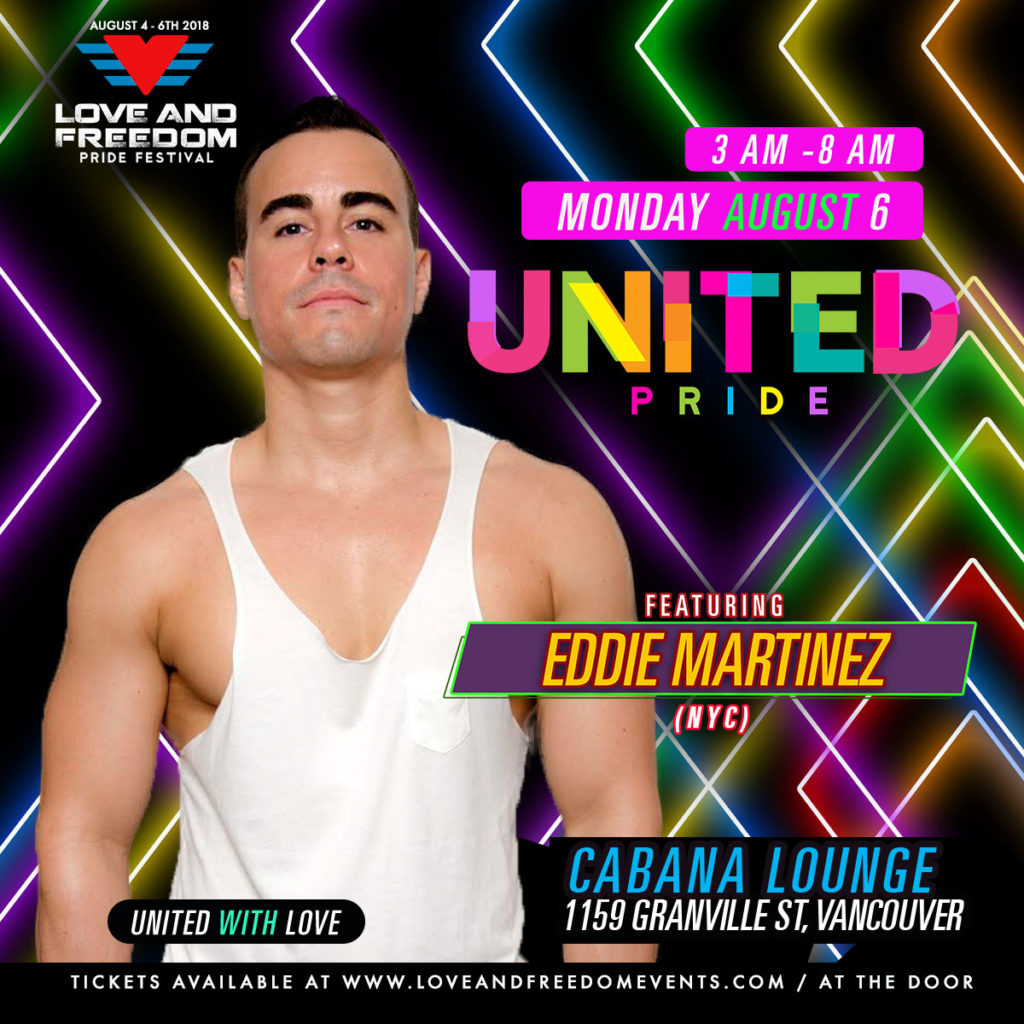 Born and raised in Brooklyn, NY. Martinez's interest in music started very early as he started putting sounds together and producing music at the early age of 15.
Inspired by New York's underground club scene, Martinez began his DJ career at the age of 20.
Getting his start by playing at lounges and bars across the city, before making his way to Fire Island where his DJ career kicked off, by becoming a resident at the famous Pavilion Night Club at the age of 21.

Soon after that, Eddie became a resident dj at Peter Rauhofer's infamous WORK! Parties in NYC. playing such major events and spinning alongside Rauhofer, as well as taking the stage alongside Peter Rauhofer, Offer Nissim, DJ ABEL, BORIS and DJ PAULO. Rauhofer took Martinez under his wing and became his mentor under the WORK umbrella.

Since then, Eddie's eclectic style has allowed him to capture larger audiences everywhere he spins. being able to read the crowd and maintain their attention throughout their experience.

Martinez has spun across the globe in countries such as, Europe, Asia, Brazil, Mexico, South America, Canada and all around the United States with residencies in such major cities as, NYC, Miami, Los Angeles, Chicago, San Francisco, Atlanta, Dallas, Boston, Seattle, Denver and more.

Playing at major global events such as, NYC Pride, Toronto World Pride, Songkran in Thailand, Angels in Zurich, Switzerland, Vita in Tokyo Japan, Vancouver Pride, San Francisco Pride,The Saint At Large's Black Party, Winter Party, White Party Miami, Purple Party, Revolution Brazil, PAPA Party, Supermarxte, WE Party, Bay of Pigs, Gay Days, Ascension & Sandblast.

Eddie's 2014 "Hybrid" LP topped the iTunes electronic chart at #90 out of 200,
His Movement podcast reached #1 in 2016 on the progressive house charts and is delivering music that is being played globally as well as topping the house charts on Beatport, with singles like "One Love" & "Believe"

Martinez's 2nd LP "Foreplay" released in 2016 has reached chart toppers around the globe in such countries as Australia & Europe including singles, "I Need U", " Show Me", " The Party!" & more.

In 2012 Martinez was named the #1 DJ you should know about by OUT Magazine and has been featured in the Huffington Post, EDGE Magazine, Next Magazine, One Way Magazine & Man About World Magazine.

Eddie Martinez's passion to make his listeners dance, no matter where they are, drives his determination to be one of the top DJ/Producers around.