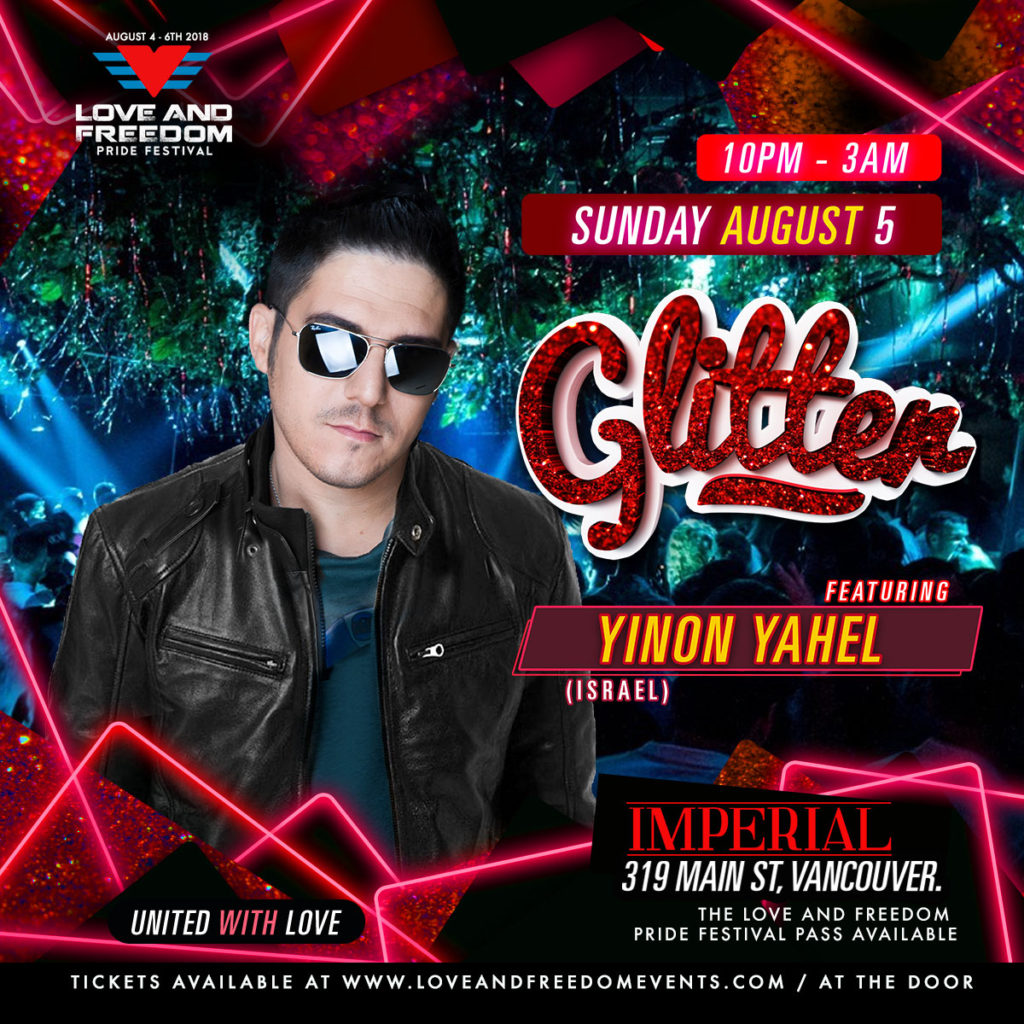 Yinon Yahel is a world renowned music producer, DJ and Remixer. Born and raised in Israel, Yinon's music has reached the top of the global charts and received millions of views on Youtube. In addition to Djing in festivals and clubs across the world, Yinon produced 'Song of The Year' in 2015 and 2017 and was awarded 'Arranger of The Year' in 2015 throughout Israel. Some of the big artists Yinon has collaborated with include: P. Diddy, Christina Aguilera, Akon, Madonna,Deborah Cox, Eden Ben Zaken, Omer Adam and Nadav Guedj.
Yinon's career in musical production began in 2002 when he collaborated with Maya Siman Tov and Dj Offer Nissim. The trio embarked on a journey to become one of Israel's most prominent Electronic Dance Music groups. In 2005 they released their first album First Time.
By 2006 Yinon had expanded global influence throughout the dance community and began to remix for countless established artists. During this period, together with Offer Nissim, he released several hit remixes such as Kristine W's "Wonder of it All," Deborah Cooper's "Love You All Over," Amuka's "I Want More," and Deborah Cox's "Easy as Life" which topped the Billboard dance charts. Beyonce's "One Night Only", "Deja Vu," and Suzanne Palmer's "Home" and "Fascinated," reached the Top 10 in the US.
Later in 2008, Yinon teamed up with and multi-platinum music producer Marcus Vest aka Channel 7, to collaborate on P. Diddy's MTV reality show Making the Band 4. During the show, the two produced singles for major R&B artists Danity Kane and Donnie Klang, Together with Klang and R&B rising star Jason Derulo, Yinon and Channel 7 wrote and produced the song "Dr Love"which later appeared on the original soundtrack of the motion picture Aliens in the Attic.
Through this period of time, Yinon also remixed and produced songs for Madonna, Jennifer Lopez, Cassie, Christina Aguilera, and P. Diddy.
In 2014 he released 2 tracks with Brazilian singer-songwriter Lorena Simpson one of which was nominated for track of the year in Brazil and the other reached the the #1 spot on Brazil's EDM charts.
That same year he co-wrote the Israeli entry for the Eurovision Song Contest. "Golden Boy", performed by Nadav Guedj, which received over 30 million youtube views and reached #1 on the Israeli national chart.
In 2015, Yinon produce the "Song Of The Year" in Israel as well as the singles for both the male & female singer of the year categories. "Yom Sheover", the track he produced for Lior Narkis', saw reached the #1 spot on the Israeli National charts once again.
In 2016 Yinon and Offer Nissim spearheaded the official remix for both "Say It To Me" and "The Pop Kids" which appear on the album "Super"by the British synthpop group, Pet Shop Boys. That same summer he was also at the helm of the official remix for DJ Hardwerk's track "Tell Me We're OK" featuring Akon.
In the recent years, Yinon regularly appears as a DJ in clubs in Vancouver, New York, Miami, Melbourne, Sydney, Montreal, Switzerland, France, Thailand, Mexico, Brazil, and Israel.